*Although this post contains affiliate links, I was not paid for this post and all opinions expressed are my own. For questions, check out my Disclosure Statement.*
There are so many amazing gift ideas for the Potter Fan in your life.  Some of these gifts can get quite pricey. I'll share some ideas here of the ultimate gift ideas for the Harry Potter fan, with an easy alternate and less expensive option. So, here we go.
The Hogwarts School of Witchcraft and Wizardry Acceptance Letter
If you are planning a family trip to the Wizarding World of Harry Potter at Universal Studios, a fun way to surprise your Potter fan is by having them receive their very own personalized Hogwarts Acceptance letter. My husband did this the Christmas before our first trip. It was so authentic looking down to the wax seal. It was also personalized with my name.
This is actually a relatively in-expensive option on it's own. You could try and make it yourself, but it would be easier and cheaper in the long run to order one pre-made on Etsy. Unfortunately, due to copy right infringement, these authentically made letters are constantly being removed from Etsy. If I posted links here, they may no longer be available by the time you click on them. So, I recommend going to Etsy and search for "hogwarts acceptance letter" to find ones that are currently for sale.
If you'd like a FREE option, you can download my Hogwarts Acceptance letter, book list and Hogwarts Express ticket from my FREE printables. 
Click HERE For the FREE Hogwarts Printables
Hedwig
You could easily spend $30 or more at the Wizarding World shop to get a Hedwig stuffed animal. I bought my Ty brand owl at FiveBelow for, obviously less than $5! Mine is a barn owl, not a snowy white owl, but Ty brand has a few owls to choose from and can be found inexpensively at many stores.
If you want a larger snowy owl, you can find this one at Barnes and Noble for $20!
Time Turner
Find many on Etsy anywhere from only  $5 to $10. Here are a couple:
Reel Cellar
You can get earrings too on Etsy @ 
One Anime Store
Wands
When we were at the Wizarding World in February, I got the interactive version of Luna Lovegood's wand and my husband got the collectible version of Snape's wand. The interactive versions cost $49.95 and can be found in the online shop HERE. The collectible versions cost $43.95 and can be found in the online shop HERE.
If you don't have any future plans to perform spells at the Wizarding World, then I highly recommend purchasing the collectible versions. They are cheaper, but they are also a little nicer. They are a bit heavier and feel more real. 
If the price tag of the Wizarding World brand wands is a bit high for you, never fear, Etsy has wands too! You can find inexpensive hand carved wands for as little as $8!
You can find them at these shops:
You could also get creative and try to carve a wand yourself. Another very cheap option would be to purchase wooden dowels and either carve or paint them.
Candles and Bath
One of my favorite newly discovered Etsy shop's, Ren's Remedies, has Harry Potter themed bath items and candles!
Check out this Golden Snitch Bathbomb Set!
This Platform 9 3/4 Bath Soap!
Or, her Harry Potter Character Themed Candles!
Be on the look out in her shop for her upcoming Honeyduke's Bath Set!
Wizarding World Food
There are so many amazing Wizarding World food items. Chocolate frogs, Bertie Botts Every Flavour Beans, Pumpkin Juice and Butter Beer!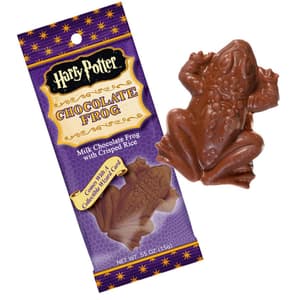 I've seen Chocolate Frogs and Bertie Botts at Barnes and Noble, Five Below and 2nd and Charles to name a few. These items are very inexpensive. You can also find them online at the Jelly Belly store. The Chocolate Frogs go for $2.99 a piece and a box of Bertie Botts go for $2.25 a box. But, I will say that if you want to blow your giftee away, and are okay with a higher pricetag, consider purchasing your items from the Wizarding World shop online. The Chocolate Frogs and the packages of Bertie Botts are much bigger and look more authentic.  Online you get a package of 4 Chocolate Frogs for $49.95 and a box of Bertie Botts Every Flavour Beans is $10.95.
You can also find a mixed assortment of Harry Potter themed candies on Amazon for $39.99.
The Pumpkin Juice on the Wizarding World online shop costs $27.95 for a pack of 4 and you can find pre-packaged Butterscotch Beer at shops like 2nd & Charles. You can also purchase them through Amazon.
There are websites that have come up with delicious homemade recipes for Pumpkin Juice and Butter Beer. A unique gift would be to print off the recipe, gather the ingredients needed and make a container gift.  You could fill a container of your choosing with the ingredients needed for Butter Beer, then throw in some other Harry Potter themed items mentioned above.
Here a few of the recipes I've found for Pumpkin Juice and Butter Beer.
Cold Butter Beer (This one even includes printable labels)
Spicy Hot Butter Beer (This one is a little harder to make, but is my personal favorite!)
And, last but certainly not least,
Gilderoy Lockhart Fanmail
I honestly cannot find where my husband found this anywhere. He said he bought it on Etsy, but I can't find it now. He gave this to me for Christmas a few years ago and it was quite a surprise gift! So very unique and of course personalized to me. This just goes to show that if you just go to Etsy and search under Harry Potter, you never know what you'll find.
Check the Harry Potter Gift Ideas video on the Savvy Journey YouTube Channel for even more amazing gift ideas!
Craving more Harry Potter? Check out my Wizard's Guide to the Wizarding World of Harry Potter!
There are so many fun, unique and inexpensive gift ideas out there! What unique gifts have you found for your Harry Potter fan? Share in the comments section below and happy gift giving!